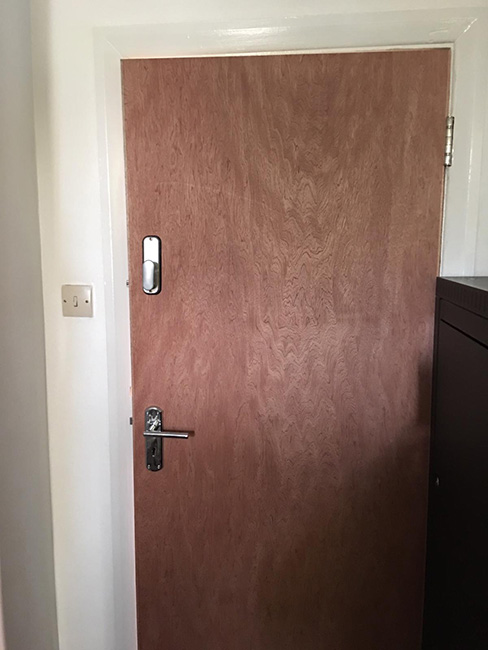 From April 2017 to March 2018, England fell victim to over 167,000 fires. The likelihood of one of those fires happening is higher than you may think so preparing your business or home for such situations is crucial.
As a leading provider of lock and door services, 24/7 London Locksmith is experts in fire prevention. One of the best ways you can protect your home or business from a destructive fire is by installing proper fire doors and that's exactly what we did for a recent client of ours.
Fire Door Installation
A church in southwest London recently contacted us with a need for heightened fire safety. We discussed their current needs and decided a fire door installation with high-security locks would be their best solution to ensure proper fire prevention.
We arrived at the church to install the fire door and improved locks. We installed the fire door securely and efficiently. Once secure, we installed the high-security locks – one code lock on top and a PM560 British Standard BS3621 5 Lever Sashlock on bottom. These locks along with the fire door are the ultimate fire safety solution.
Mission: Fire Door Installation & Lock Update
Door: High-Quality Fire Door
Lock: Code Lock & PM560 British Standard BS3621 5 Lever Sashlock
Phone Call Date & Time: Friday, February 29th 11:05 am
Arrival Time: 11:37am
Work Time: 1 hour 15 minutes  
The Importance of Fire Doors
Fire doors are the ultimate fire preventative solution for a variety of homes, businesses, schools, and other institutions. Ultimately, fire doors prevent fire from spreading throughout a property. Doors of this kind can hold off fire and smoke for about three hours, therefore, protecting your valuables from any harm. Fire doors are made of high-performance fire-resistant materials.
If you're looking for an updated fire-resistant solution, be sure to make 24/7 London Locksmith your first choice. Our high-performance fire doors and lock solutions are the leading fire prevention solution. Reach out to us today to make your home or business fire resistant!