Facts about how burglars choose a house
Burglars are usually opportunistic thieves who prey on flats and houses for valuables. They find any possible way to take advantage of your home, especially open doors and windows that are poorly locked. Most of these thievery acts are premeditated, whereby they spot anything of value through the window and devise means to get it.
Every year there are a significant number of victims of domestic burglary in the UK. Therefore, most people worry about their home security and fear that they'll be the next victim. While there are plenty of things that make your home a target for burglars, there are some measures you can implement to deter them away.
Here we will discuss the essential things burglars look for when choosing a house. Therefore, you can consider and find a suitable way to prevent this from happening to you. Let's now jump into our guide below:
1. Most burglars enter unsecured homes
If you like leaving your home's windows or doors open, you may be providing a free-pass to burglars. It is believed that most adults are prone to leaving their houses unlocked, and most of them end up burglary victims. So, make fair use of your door Locks. In other words, if you leave your house unlocked, burglars can quickly enter and grab anything valuable without getting noticed.
Therefore, it is critical always to lock your windows and doors whenever you leave your house. Whether you are going to a nearby shop or market, always keep your home locked to make it less of a target to thieves. Also, be sure to lock your windows and doors while at home to deter potential burglars. 
2. Burglars easily break into houses with weak locks
Homes with less secure locks are prone to an easy and quick break-in by burglars. Such locks allow burglars to try to enter through the front door in your homes with ease without notifying neighbours. Besides, weak window locks can be the easiest way for burglars to get into your home. 
It is essential to look for premium quality locks like Ingersoll Door Locks from a reliable vendor. Ingersoll Door Locks are the perfect choice. They're made with quality and security grade materials, making them incredibly strong and challenging for burglars to break them. 
Your house may have the most qualified and reliable locks, but they become useless without proper use. It means to be sure to lock your windows and doors to prevent your home from being a target for burglaries.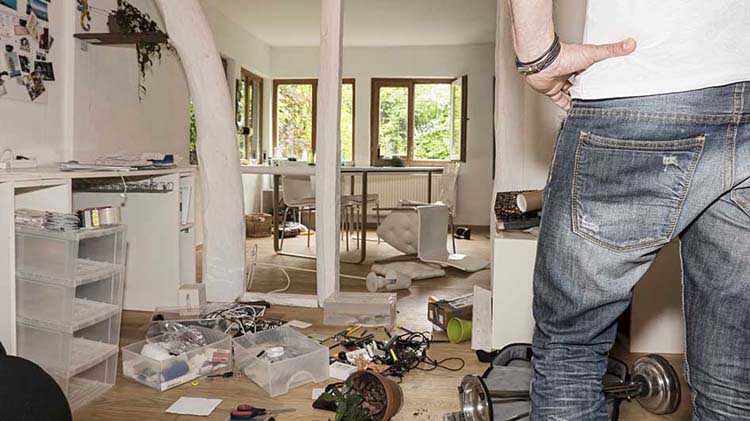 3. Burglars return to houses they previously robbed
Are you a victim of burglary? If so, the chances that the same burglar will come back are pretty high. Most victims tend to be reluctant about upgrading their home security and that the burglars will never come back. As a result, they end up being victims again and again. But why? It may be that their last break-in gave them confidence that the next attempt will also be successful. Typically, they understand the house's layout, how to get in, and how to escape.
Therefore, the only way to prevent them from coming back is to update your security alarms and locks. In the UK, London Locksmith 24h is well-known for providing the most affordable and reliable security solutions. It is the best choice to replace locks, repair break-ins, or take your home's security to the next level.
Additionally, take early precautions if a nearby house was robbed, so you are not the next victim. Be sure that you have a reliable security system that will make your home a no-go zone for burglars. If your door or window locks are weak or outdated, let an expert install Ingersoll Door-Locks for top-notch safety.
4. Most burglars take advantage of dark shades
Burglars often choose a home that lacks security lights on the outside or dimly lit backyard. They believe that they can easily enter your house and pick valuables and leave or escape with the least chance of getting seen or caught. Unkempt and overgrown trees or bushes may also spur burglary as they offer a hiding space for burglars.
So, it is a good idea to add a suitable security lighting system to illuminate the dark areas surrounding your home. You can also invest in lights to scare away anyone trying to sneak into your home. Besides, take pride in making your home's appearance. It is to say, keep your garden areas well-trimmed and maintained to get rid of hiding spots burglars may use. As a result, your house becomes the least appealing target to burglars since they'll think of entering your home risky.
Also, you should invest in a top-quality burglar alarm system to scare off burglars. It will instantly tell you when someone tries to break into your home.
5. Easy-to-access garden
Security issues can easily get noted by just the looks and rigidity of your garden. A weak garden security system can grant easy access to burglars allowing them to enter the house unseen. Therefore, install a reliable fence to secure your home from potential risks of a break-in. Additionally, it would be best to add gate locks to secure your garden from burglary. 
6. Burglars know when you are on a vacation
There are easy-to-tell signs that show that you are out for a holiday, making your house a target for burglars. Some indications that tell burglars that you have not been at home for a while include:
Empty house

Full mailboxes

Overgrown or unkempt trees and bushes in the garden

Absence of security lights or motion-activated lights
It will also help if you ask your close friend or relative to keep an eye on your home to deter burglars. Ask them to water your plants or tidy the house every few days. It is also good to invest in automatic light timers to tell burglars that someone is at home.
7. Opportunistic burglars always go after something valuable
Exposing valuable items in an open view is one of the common security risks in the UK. Usually, visible things through an open window or door often entice burglars to make your home a target. Burglaries can be premeditated or based on the opportunity one gets.
In most cases, you'll always find a suspicious vehicle or individual walking past your home more regularly, trying to see what items of value you have. When the break-in occurs, they'll grab as many things as possible in a short time.
Installing a safe box can be the easiest way to prevent such burglaries. They are often best for protecting highly valuable items such as jewelry, watches, or other things with sentimental value. You'll find the safes available in different forms to provide varied security levels.
Other than that, you should keep your items away from open spaces like the door or windows. Use curtains or blinds to restrict visibility to those who may attempt to look inside your house. More importantly, keep away things like stools or ladders, which burglars may use to climb up and see through high windows.
8. Availability of CCTV cameras
Plenty of modern homes are installing CCTV cameras to up their home security. Installing visible CCTV cameras around your home can be the easiest way to drive burglars away. They perceive such homes as highly secured, and it would be a risk to target them. These cameras may also help you catch any suspicious activity around your home and keep your home safe from break-ins.
Secure your House with Ingersoll Door Locks
Are you looking for the most effective and reliable way to keep your valuables at home secure from burglars? Well, Ingersoll Door Locks are the current go-to solution for most homes in the UK. They are incredibly strong to last long and resist break-ins by fake keys making your home safer. 
Final Words
Regrettably, burglary may be a common problem among many homes. However, if you understand how burglars choose the next house to target, you can find it easy to secure your home. That said, let the tricks above help in thinking like a burglar and avoid being the victim. 
Do you want to make your home incredibly safe from burglaries? Well, it is high time to install Ingersoll Door Locks. They boast premium quality materials and remarkable performance in preventing break-ins and deter potential burglars away.
Besides, let us be your expert in installing, replacing, repairing locks, and upgrading your home security. We offer affordable and reliable solutions to your security issues. We are also capable of delivering high-end security services and products to security-conscious individuals and businesses. Our lock professionals are bonded, certified, and we offer a guarantee on our services.