Sliding doors are a popular new trend in interior design. They have some great advantages to your home's efficiency and aesthetic. With sliding doors, you do not have to worry about door hinges, lack of space, or low natural light. Sliding doors add greatly to the natural light in your home, have a sleek, clean look that is not bulky, and add outdoor views to your space.
When you are choosing new doors for your home, it is important to do all the research so you know what the pros and cons are for each door type. One popular type of door you can put in your home is a uPVC door. uPVC door installation is simple, and these sliding doors are cost-effective and durable.
uPVC Door Installation: What Are uPVC Doors?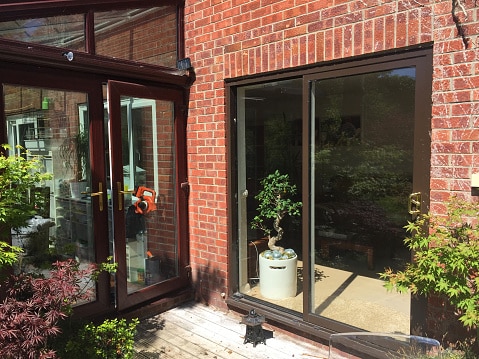 The acronym uPVC stands for unplasticized polyvinyl chloride, referring to the substance the doors are made of. 
A uPVC door is made as a substitute for painted wood. For example, instead of wooden doors or windows, these doors are made of unplasticized polyvinyl chloride, which is a more durable substance than plastic or cheaper wood.
uPVC doors are popular with builders because they are less expensive than aluminum or heavy hardwood options. The material is more affordable, and it is still more durable than other cheaper options. With its lower price and higher durability, uPVC sliding doors may be the perfect door for your home.
Choosing uPVC Doors Wisely: 3 Factors
Doing your research before purchasing a sliding door is very important. You want to make sure that you are choosing the door that is right for you. Keeping that in mind, you should consider the cost of the uPVC doors, the amount of maintenance they require, and the location of the uPVC door installation in your home. Consider these factors before moving forward with your uPVC door purchase.
Cost
Before making any big purchase in your home, it is essential to look at your budget and decide how much you can afford to spend. Sliding doors come in all different levels of quality, and it is important to know what your budget is before making your choice. 
That being said, the uPVC door's low price adds to the reasons that you should choose to install it in your home. uPVC doors are budget friendly and a professional can come from 24/7 London Locksmith and do your uPVC door installation for a low cost. 
Your uPVC doors can vary in price based on a few factors. First, your location matters. The price of uPVC doors in your city may be different than in another city. In addition, finish and glass size can also affect the price of your uPVC door. 
Maintenance
Any large home purchase must be taken care of and maintained so it lasts as long as possible. uPVC doors are no exception. Another advantage of uPVC doors is that the maintenance required to keep them working smoothly is very minimal. 
When dirt, dust, or debris buildup in the track of your sliding uPVC doors, wipe them clean with a damp cloth and then dry them with a dry cloth immediately. You also should wipe the frame from time to time, to avoid dust and dirt buildup. 
If there ever is a more serious issue with your uPVC doors, you can call 24/7 London Locksmith and they can come and give you a free estimate for your repairs.
Location Of uPVC Door Installation
Before hiring a professional, consider where you need to install doors in your home. uPVC sliding doors are a great addition to your home, but they are best used in certain locations in your home. A kitchen or living room is a great place for a uPVC door. 
However, you need to consider your own privacy needs when deciding where to place your doors. If you have uPVC doors in a bathroom, consider adding a translucent layer to your doors so you have privacy in your bathroom. It is also important to consider this if your door location is at the front of your home. Privacy is an important factor when thinking about the location of your uPVC doors. 
Why Do People Choose uPVC Doors? 4 Reasons
uPVC doors are popular for many reasons, including their low cost and maintenance. There are many other reasons why people choose uPVC doors as well. Here are four reasons why uPVC doors are popular amongst homeowners.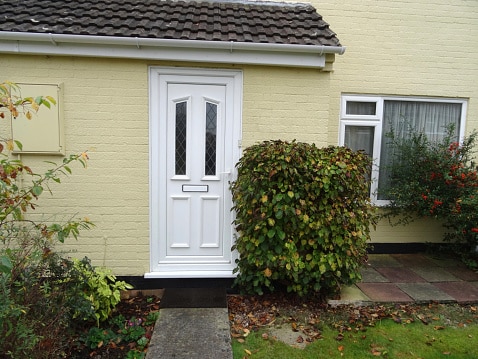 Remarkable Insulation
One common misconception about glass sliding doors is that it automatically means that your home will not hold heat as well. This is simply not always true. uPVC doors have remarkable insulation that holds the air inside your home to your desired temperature. 
In the summer, the cold air from your air conditioning system will not escape from the uPVC glass sliding doors. In the winter, your heat will not go to waste. The insulation system in the uPVC doors will ensure that your home stays the temperature you desire, regardless of the fact that the doors are made of glass and uPVC materials. 
Extreme Durability
Another misconception that many people have with less expensive materials is that they do not hold up as well as expensive options. With uPVC doors, you get the best of both worlds. For a low cost, you get the durability of the expensive materials, such as aluminum and heavy hardwood, at a cost-effective price. 
uPVC doors can easily stand in harsh weather scenarios and do not suffer from being opened and shut multiple times. Damage from heavy usage is not a problem with uPVC doors, as they are durable enough to withstand frequent and even constant opening and closing. uPVC doors are just as durable as their more expensive competitors.
Environmentally Friendly
Unlike many of their competitors, uPVC doors are economically and environmentally friendly. The material uPVC doors are made of is unplasticized polyvinyl chloride. It is not plastic, but is a synthetically engineered alternative that is better for the environment. Plastic doors are also inexpensive, but they are not durable, and when they inevitably break, they end up getting tossed in the garbage and eventually thrown in a landfill somewhere. 
uPVC doors are durable, which means they do not go to waste. They use materials that are friendly to the environment and do not contribute to the landfill. 
Improved Safety
One major advantage of uPVC doors is their improved safety. With extreme durability also comes heightened safety. Many people assume that having glass sliding doors means compromising on safety, which is one of the most important parts of choosing what goes into your home. However, this is not the case. Glass sliding doors can still be safe if they are made with the right materials, installed correctly, and put into the right location in your home. 
As mentioned before, it is important to consider where your uPVC glass sliding doors are going in your home. It is not in your best interest to put these doors in a bathroom, bedroom, or at the front of your house unless there are thick curtains or a translucent film added to the glass. Paying attention to your own privacy is an important part of improved safety. 
With that being said, the material the uPVC doors are made of is very durable, so break-ins are not likely. uPVC doors are able to withstand force. They also come with multiple lock options, so you can choose the locks that work for you. uPVC doors will add to the safety of your home. 
Conclusion
All in all, uPVC doors are a great addition to your home. There are many reasons why these glass sliding doors are the best fit when it comes to choosing sliding doors.
The cost is equivalent to the lower cost of other doors, but these doors are higher quality. Even with their lower cost, uPVC doors still maintain the strength of more expensive materials. The maintenance of uPVC doors is little to none, making their care easy to handle so that they last a long time. The location of the doors in your home is up to you, but make sure you choose a location that is safe and maintains your privacy.
uPVC doors can increase natural light in your living space, give you more usability of the space in your room, and enhance the views in your space. They are extremely durable, equivalent to other materials like aluminum or hardwood, which cost much more. They are more economically and environmentally friendly, using  unplasticized polyvinyl chloride, a material that is better for the environment than other cheaper substances used for door making. 
uPVC doors also have great insulation, ensuring that your cool air stays inside in the summer and your heat stays in the house in the winter. Finally, your safety is improved with the extreme durability and locking mechanisms in the uPVC doors. With all of these great features, uPVC doors are the best choice when deciding on glass sliding doors for your home. Call 24/7 London Locksmith today for your uPVC door installation needs.