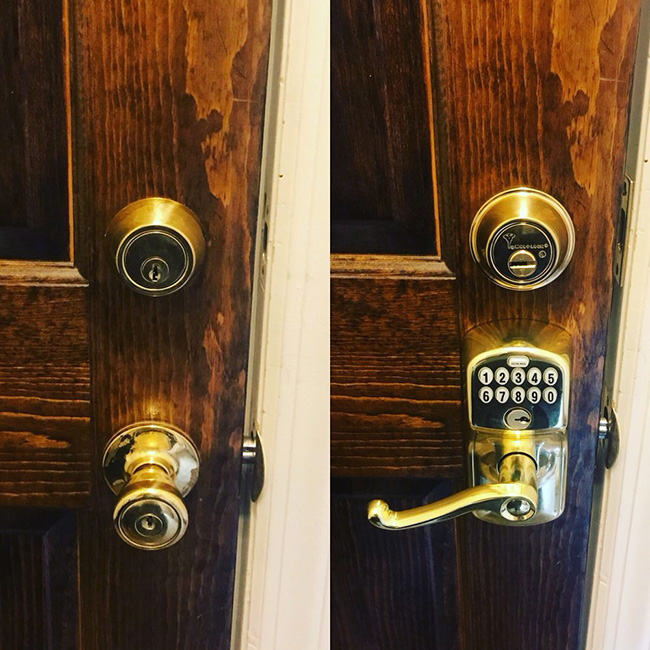 As technology advances, so do burglars. With today's advanced lock technology, you'd think that your deadbolt is 100% safe from burglars. We're here to tell you that that assumption is false.
Burglars adapt to technology. No matter how advanced the lock is, burglars will find their way around it. That's why it's so incredibly important to update those old locks on your doors. It's time to swap out those rustic Victorian-era locks for a smart lock.
That's exactly what a recent client of ours did in Northwest London:
The Situation
A client of ours in Northwest London contacted us because he recently became uncomfortable with the lack of security his current locks offered. His neighbor had just experienced a burglary and he was not sure his current locks would deter a burglar of any kind.
We arrived at the home and assessed the current lock situation. The client currently had a basic lock standard lock. And although this lock offers a good amount of security, there are a variety of other locks available that provide higher security.
We removed the basic lock and replaced it with a high-security Mul-T Lock on top and a code lock on the bottom. This code lock removes the need for a key and heightens security of the home.
Mission: Lock Update – Replace basic lock with higher security lock
Lock: High-Security Mul-T Lock
Phone Call Date & Time: Tuesday, February 5th 3:35 pm
Arrival Time: 4:09pm
Work Time: 33 minutes
Why You Should Install An Updated Code Lock
If your locks are old and worn down, your chances of a burglar gaining access to your home are heightened. There's a simple solution to this. Just update your old locks.
Updating your locks regularly is crucial to ensuring the security of your home. And since there's a variety of lock options available today, code locks are a convenient option. Code locks remove the need for a key. You'll never worry about losing your key again!
For help updating your locks in the Greater London area, reach out to 24/7 London Locksmith today!